One of the concerns of health authorities nowadays is the alarming increase of diabetic cases over the years. It has gone from a rare disease to one of the most common ailments afflicting people of different ages and different segments of society. Recent reports have shown an increase of reported cases in Type 2 diabetes involving children and adolescents. The good news is, we can keep this type of diabetes at bay by practicing healthy habits in the family.  You and your kids need not live a sugar-free life to stay away from diabetes. Just like in any lifestyle disease, your key to diabetes prevention is in eating and living healthy.
I was given a chance to join the Diabetes Awareness Event sponsored by LifeScan Johnson & Johnson last May 26, 2012 at Max's Restaurant, Gateway Mall, Cubao Q.C. where we got some useful insights on this fast growing health concern that can be prevented with an increased awareness of the risk factors involved and the measures that we can take to avoid them.  Here are some diabetes facts that we gathered from the event speakers Dr. John Flores, M.D. and Mr. Alex Villareal a 66-year old diabetic who continues to enjoy an active life despite his age and medical condition.
The misconception that diabetes is an ailment caused by excessive sugar consumption or eating too much sweets is a myth that we can discard along with other old wives tale that we grew up with.  Sugar or glucose is actually a requirement for our muscles and cell to function properly.  Diabetes results from insulin deficiency or insulin resistance in the body.  Unlike other ailments that can be cured with medication, diabetes is a lifetime disease that you have to bear for the rest of your life.  Once you are diagnosed with diabetes you will have to manage the illness by controlling sugar levels in your body so that other complications like vision impairment, poor wound healing, and others, can be prevented.
Modern technology allows us to monitor and control sugar levels in the body efficiently and conveniently.  The availability of self-monitoring blood glucose meter is a great help to those who are already diagnosed with diabetes.  These devices are usually compact and easy to use.  You won't have problems checking your blood sugar levels anytime and anywhere since it is designed to be conveniently brought along with you. One of the guest speakers in the event, Mr. Alex Villareal who is a diabetic himself, shared with us the importance of monitoring glucose levels in managing his condition.  According to him, timely monitoring of sugar levels in his blood enables him to adjust his medications whenever there are changes or irregularities observed.  Irregularities in blood sugar levels often manifest symptoms of hyperglycemia or hypoglycemia.  Treatment of these conditions differs depending on the health condition of a person.  In the case of diabetics actual sugar levels can affect the dosage of medication required.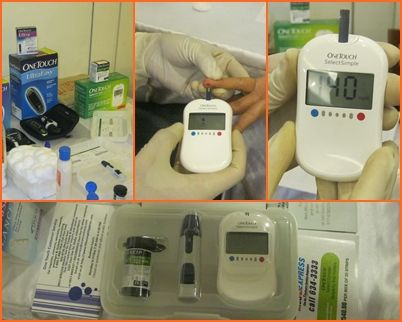 There are several blood glucose meters that diabetics can purchase to help monitor and manage their ailment.  The recommended ones are those that have a coefficient of variation (CV) percentage of less than 5%, like J&J's OneTouch brands. There are three models that you can consider, OneTouch UltraEasy, One Touch Ultra2, and OneTouch SelectSimple which all have a CV of less that 5%.  This means that theypass the grade of accuracy and precision requirements for meter devices.  These gadgets are available to help us determine or monitor sugar levels andnot to diagnose any illness. They can give us the preliminary results which may be used to pursue further lab tests or medical examination by a physician. The diagnosis and prescribed treatments may only come after thorough evaluation of a medical professional
There is neither cure nor prevention presently available for Type 1 diabetes, but once diagnosed this condition is manageable by working closely with your doctor on the treatments prescribed.  In the case of type 2 diabetes, we can help prevent our kids from acquiring it by providing them with a healthy diet and regular exercise.
Moms like us can start inculcating the value of good nutrition and healthy lifestyle to our kids to prevent the occurrence of type 2 diabetes in the family.  We grew up with the traditional food pyramid as our guide in providing proper nutrition for our kids.  Modern moms now use the Movaba Plate in allocating food portions in our daily diet.  We can take it a step further by utilizing the glycemic index (GI) as reference for the amount of carbohydrates in food that can affect blood sugar levels in the body.  This can help us make the most healthy food choices in preventing and managing diabetes.