All moms know how important milk is for everyone – from infants, to growing children, to adults.  Milk is a great source of Calcium needed for better bone and teeth development.  It contains Protein essential in muscle building.  It also helps kids cope during growth spurts.  Milk is definitely important in helping kids be smart and strong.  During puberty, milk helps provide complete nutrition.
There really is no reason to go through a long narrative explaining why milk is important – we all know it already.  This is also why moms like me make sure that our children consume enough milk to meet their daily nutritional requirements.   For our family, we opt for fresh milk instead of the powdered variety.  Unlike powdered milk, fresh milk is more consistent in quality and is more convenient.  All we need to do is open the box and pour milk out.  Even my two preschoolers can get milk by themselves without making mess.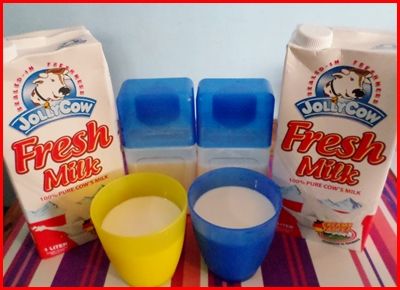 "I like it because it's sweet, milky and smooth; and my brother likes it because it's yummy milk." This was my little Jade's answer when I asked her why she likes Jolly Cow Fresh Milk.  Both my kids are familiar with the Jolly Cow brand, it being among our staple milk brands since we weaned them from infant formula milk.  These two preschoolers drink fresh milk throughout the day and consume 1 ½ to 2 liters each day.
"Jolly Cow is among the first brands developed by Fly Ace since 1997. The brand was inspired by the company's vision of a quality milk brand after handling the distribution of Cow Head milk in duty free shops and national retail chains."
Among the milk brands that we trust for superior quality is Jolly Cow.  Both the Jolly Cow Fresh Milk and the Jolly Cow Non-Fat Milk are perennially on our grocery list.  The Fresh Milk sourced from Germany is much loved by my kids for its creaminess.  Its 3.5% butterfat content makes it one of the creamiest fresh milk in the market.  The Non Fat variant is sourced from New Zealand which is a popular source of high quality cow's milk.  Jolly Cow Milk is also priced fairly and fits our budget just right.   What we have yet to try is the Jolly Cow Condensada sourced from Malaysia.   We were given a couple of cans during the Jolly Cow School Tour in Angelicum College and we're eager to see if it does have the same high quality as the fresh milk and non-fat milk.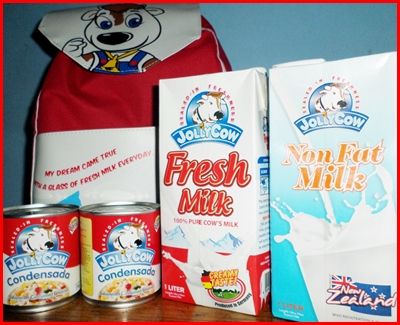 Jolly Cow continues to be among the milk brands that we trust.  Our two preschoolers love its creamy taste and drink it with gusto and this is why it will always be a permanent item on our grocery list.