Fresh fruit juice and shakes are healthy refreshments that moms love to serve during the summer season.  Aside from great tasting natural flavors, kids also get to benefit from the vitamins and minerals in these drinks. If you don't mind going through the process of choosing good quality fruits for juicing, peeling, seeding, and slicing fruits for the shake, shaving ice, prepping the blender, and cleaning up afterwards, then these fresh options are perfect for you. Those who neither have the time nor skill to do all these need not fret because there is an instant alternative that can also revitalize the body with vitamins and minerals – the Vita Plus Natural Health Drink .
First Vita Plus is a brand of nutraceutical products that is 100% made in the Philippines. Their products are basically powdered juice drinks that offer health benefits like that of a food supplement. The Vita Plus Natural Health Drink is made from natural ingredients that include malunggay, dahon ng sili, saluyot, kulitis, and talbos ng kamote. These ingredients are referred to as the five power herbs because of the various health benefits that they bring. Perhaps the most popular of them all is the malunggay or Moringa Oleifera. This herb is power packed with vitamins and minerals, and is also known to help detoxify the body. Combined with the other four herbs, they make a refreshing drink that can help protect the body from different types of illnesses.  Some who have tried this drink shared their stories of recovery from illnesses like hyperthyroidism, psoriasis, congenital heart defect, and other ailment with the help of this drink. Others simply take it as a refreshing drink that keeps their body energized or revitalized.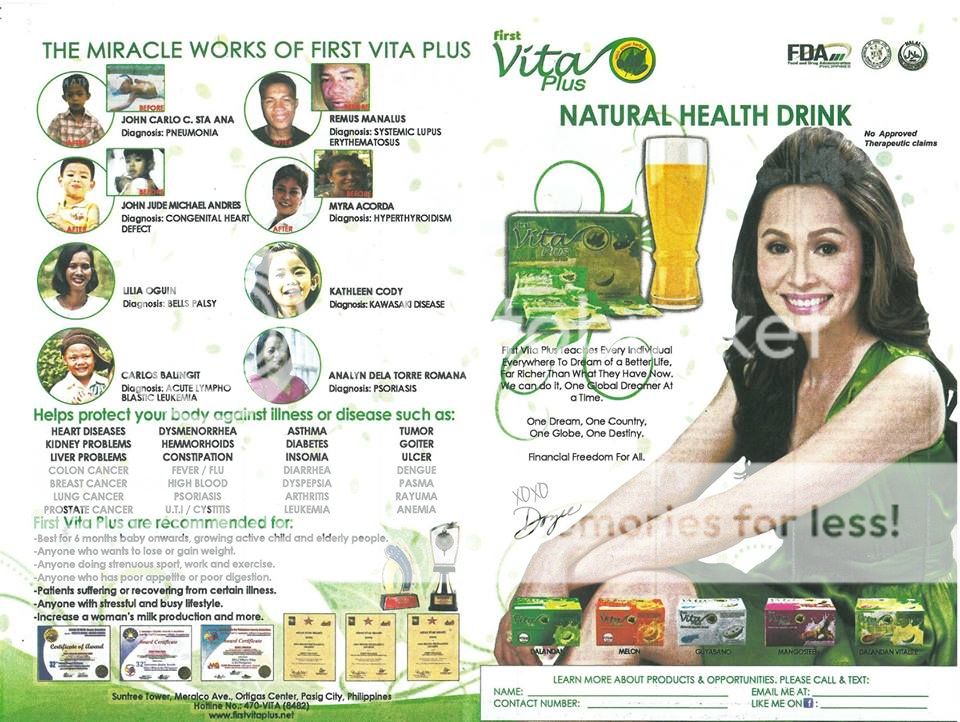 Although there have been a lot of testimonials about the healing properties of this drink, people should note it still doesn't have any approved therapeutic claims. It is still important for those who have medical conditions to consult their physician for proper treatment. However, the Vita Plus Natural Health Drink can be a good option for those who want to maintain their good health or get extra nutrients in their body. Think of it as a refreshing way to take your food supplements.