Lilac Street in Marikina City has become a great foodie destination for people in the Metro. Here you can find an assortment of cuisines and dining experiences that fit your mood. Restaurants along this street may offer anything from typical street food fares to fine dining gastronomies. Our pick for the day is Nicandro Lutong Bahay Restaurant located at #10 Lilac St. Concepcion Dos, Marikina City.
The restaurant offers Filipino dishes with influence from the Ilocandia region. There are several interesting dishes in their menu. The Poqui Poqui Rolls intrigued me and the Kare-Kare sa Bagnet sounded inviting. But in the end, we ordered Sinigang na Tiyan ng Bangus sa Bayabas, Adobong Pusit, Sinuglaw and Chicharon Bulaklak. I was delighted to see that the Sinigang na Bangus was full to the brim with its ingredients. After my first sip of the broth, I quickly remembered why we don't usually order sinigang sa bayabas. I am not fond of the scent nor the flavour of bayabas. But since they didn't have sinigang in tamarind or miso, we decided to go with the Sinigang sa Bayabas. Except for the broth, I have no complaints with the dish. The fish and veggies were not overcooked but I would have enjoyed it if they used sampaloc instead of bayabas.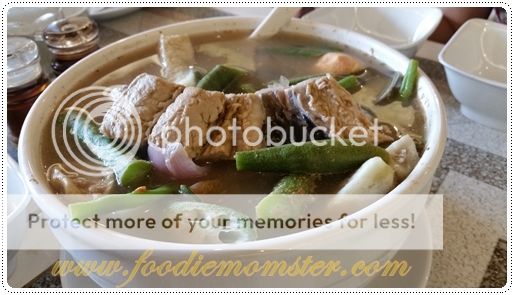 The Adobong Pusit and Chicharon Bulaklak were also well cooked. The pusit was tender and very flavorful, while the chicharon bulaklak was really crunchy. I became a fan of their Sinuglaw at first bite. The vinegar flavour was strong but it wasn't offensive to the palate. You can also tell that the tanigue was really fresh with its texture.
I enjoyed all the dishes that we ate at Nicandro Lutong Bahay Restaurant, with the exception of the bayabas broth. The ambiance was just fine for casual dining and the staff were all friendly. However, they seem a bit inexperienced because we had to remind them to serve the rice after all the dishes have been served already. Diners should also be ready to wait for their meals because they are only prepared upon your order.
For me nothing beats freshly cooked dishes with fresh ingredients. This alone puts Nicandro Lutong Bahay Restaurant in my list of foodie stops in Lilac. On our next visit we plan to try other dishes in their menu. One thing is for sure though, I'm still up for another round of Sinuglaw. This dish gets two thumbs up for me.